Try these out when you get ready the next time- wear your beautiful outfit without any item of jewelry and take a picture of yourself. Next, accessorize your outfit (be it with hoop earrings, or a bracelet or even a multilayered neckpiece) and take a picture again. You'll immediately notice a stark difference between the two!
Jewelry is an instant upgrade to your outfit. When done right, it can make you look chic, polished and sophisticated. I understand that for someone who doesn't accessorize often, including jewelry can seem a little daunting. So this is where we come in with pointers to slay those looks and in style!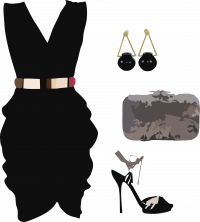 Don't overdo statement pieces- Statement pieces are jewelry which are huge and attract attention. It might be in the form of a highly embellished choker, a chunky bracelet or even exaggerated earrings with some bling! If you're wearing a statement piece, ensure that your outfit isn't too over the top. For example, if your outfit is bright and patterned, stick to simpler jewelry items and not a statement one.
Timeless is always a good investment- Instead of hundreds of junk jewelry, invest in classic pieces which would look good with many outfits and stand the test of time. It's easy to get carried away with the innumerable options available everywhere but take a step back, and think to yourself if your purchase is a classic.
Understanding your personality type- While purchasing and wearing jewelry, take a note of how it makes you feel. Have you succumbed to buying it because of your peers and friends or is it something you can use to express your individuality and style? The best pieces will always make you feel confident and put together!
 How much is too much? – While wearing jewelry, don't take on too much and wear every piece you own! You don't need to wear a neckpiece AND a pair of earrings AND a bracelet AND rings. A simple rule of thumb is wearing one jewelry item around your upper body (i.e. either necklace or earrings) and one around the second half (i.e. a statement bracelet or a stack of rings). However, if your jewelry items are minimalistic, you can go ahead and put on both a ring and a bracelet!
Practicality goes a long way- If you're going to be at work, wearing jewelry which hinders your movement or requires a lot of maintenance is a big nono! Similarly, if you're attending an event which requires you to move around a lot, stick to those items which do not make a clinking sound.
Nobody likes being around a noisy person.
Dressing with purpose and wearing jewelry that makes us feel good can make us feel the type of confidence that comes from feeling truly yourself. This is a sentiment we hold dear at Kabbish, where each small piece of jewelry is handcrafted and captures the local culture and tradition.